Read about Joshua's experience as our very first DHN guest!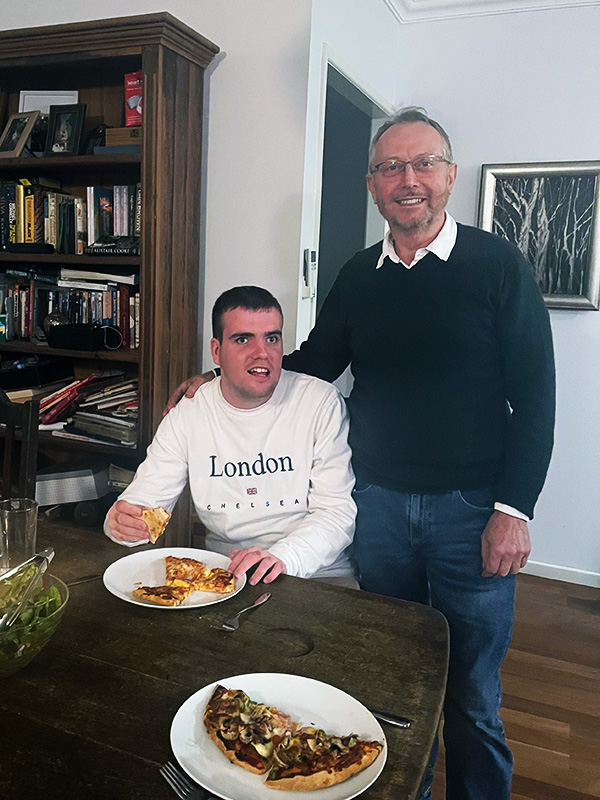 BRISBANE, Australia – 28 June 2022: With three brothers, four sisters and two stepsisters, the idea of spending two nights away from home without his family would usually be a big deal for 21-year-old Joshua Boyle.
But with the goal of experiencing different social environments and expanding his independence, Joshua (with the help of his mother Vicki-Lee) packed his bags and travelled to Taringa in Brisbane's inner south-west to meet his 'hosts' for the weekend.
Joshua connected with support worker, Natalie, and builder, Rob, for the first ever placement for the Disability Homestay Network (DHN).
DHN is a new Australia-wide short-term accommodation (STA) program for eligible participants funded by the National Disability Insurance Scheme (NDIS). The initiative is managed by the Australian Homestay Network (AHN).
Joshua said he loved the experience and is looking forward to his next stay with Natalie and Rob.
Pam Burgess, CEO of The Developing Foundation Inc. who referred Joshua to DHN, said the homestay setting and guest/host matching process used in the program fostered positive outcomes for participants.
"Joshua's host family was perfect and made him feel very welcome.
"His speech is not always easy to understand, but Joshua was able to ask for things he wanted like a bath and to call his mum to share how much fun he was having.
"Facing smaller challenges, meeting new people, being able to ask for what he wants are important small, manageable steps towards achieving greater independence," Mrs Burgess said.
"Thanks for helping Joshua "find his voice".
Host, Natalie Hammond, said the family "absolutely loved" the experience of having Joshua visit their home.
"Josh was very social and was happy to interact with our family and friends during his stay.
"He helped to cook dinner and always let us know when he needed something, which was great for building his independence," Ms Hammond said.
"The whole process was smooth and thanks to the Australian Homestay Network everything was super organised.
"We would definitely host again and we really encourage others to take the plunge and open their home for any person living with a disability."
The launch of DHN comes at a time when support services for people with disability are in high demand and practical assistance for carers, such as respite, is lacking.
In the recent Source Kids 'Source Survey', carers identified the need for more support worker hours (45%), assistance with social and community participation (35%), capacity building (31%) and respite (29%).
David Bycroft, Founder of the Australian Homestay Network, said holistic programs with a competitive price point like DHN offer a solution to such concerns.
"The Disability Homestay Network provides NDIS participants and their carers with a break from their daily routine as well as access to quality STA experiences and supports.
"Our process of matching participants with the most suitable host family for their needs – and having them approve the match – lays the foundation for a positive stay where they can enhance their daily life skills, achieve their goals through new experiences, and build community connections," Mr Bycroft said.
"DHN packages are priced so eligible NDIS participants can use their Core Supports funding to enjoy hassle-free stays that include one-on-one personalised attention and support, accommodation, meals, agreed activities and local transport as well as 24/7 emergency assistance and insurance."
Mrs Burgess said unique initiatives are key to ensuring Australians with disability receive the support they need to live an inclusive and fulfilling life.
"The NDIS National Workforce Plan revealed that 83,000 additional workers will be required by 2024 to guarantee essential supports for NDIS participants.
"I believe that DHN will play a vital and important part in helping to meet this demand," Mrs Burgess said.
START PLANNING YOUR STAY!

We can create a Short Term Accommodation experience tailored to your needs.
Apply Now to help us learn more about you and what you want from your stay.